NEWYou can now listen to Fox News articles!
Hello and welcome to Fox News' morning newsletter, Fox News First. Subscribe now to receive Fox News First in your email. And here's what you need to know to start your day…
WILL IT BE WAR? – President Biden gives a one-word answer when asked if he would send US military personnel to defend Taiwan if China were to invade the island nation. Continue reading…
RADICAL PROGRAM – 7 books that reveal "woke" transgender education being forced on children from kindergarten age in America's largest city. Continue reading…
BLUE EXPLOSION – The Black Lives Matter Global Network Foundation has donated a massive sum to a radical anti-cop group. Continue reading…
THE MOST EXPENSIVE PLACE ON EARTH – Has the cost of Disney World become unaffordable for the average American family? Continue reading…
"THIS IS NOT A GAME" – A transgender pioneer criticized modern activists, saying they indoctrinate children. Continue reading…
POLITICS
ADVISOR OBAMA'S WARNING – Dem's anti-tariff bills are "pretty fanciful," and will likely make matters worse: Jason Furman. Continue reading…
'TRANSITION' TO WHAT? – Biden's top economic adviser Brian Deese dodges recession questions, says the US economy is only in a 'period of transition'. Continue reading…
DISTRACTION 'DARK MAGA' –GOP Chairwoman Ronna McDaniel had no idea what Madison Cawthorn meant in the rant, says the party should focus on something else. Continue reading…
"GOOGLE PURGATORY" – Florida Senator Marco Rubio accuses Google of censoring his campaign emails. Continue reading…
MEDIA
'FIGHT THIS DISINFORMATION'- MSNBC host slams "dumb" GOP lawmaker for committee questions on late-term abortion. Continue reading…
HUNGER BABIES CAN BLAM BIDEN- ABC's 'This Week' on Baby Formula Crisis: 'The Blame Stops in the Oval Office' Continue reading…
PARTY SUPPORT – Democrats are praising Biden on CBS, ABC and CNN for doing a "really good job" of "managing" by any measure "except inflation." Continue reading…
PRIME TIME
TREY GOWDY- Headline 42 numbers show a "lack of political will" for the Biden administration on the border, Jason Chaffetz told the Fox News host. Continue reading…
MARC LEVIN – Democrats have pushed "racist" policies "for decades," the Fox News host said Sunday night. Continue reading…
STEVE HILTON- "Incapable" Biden should "resign or be removed from office immediately" due to a formula shortage, the Fox News host said. Continue reading…
IN OTHER NEWS
KARDASHIAN WEDDING – Kourtney Kardashian married husband Travis Barker in a medieval castle overlooking the sea in Portofino, Italy on Sunday. Continue reading…
A MURDERED IRANIAN COLONEL – Iranian Revolutionary Guard Colonel Hassan Sayyad Khodaei was shot dead by unidentified gunmen on a motorcycle in Tehran. Continue reading…
DEM ATTACKS HIS OWN STATE — Stacey Abrams says Georgia is "the worst state in the country to live in," despite owning several homes there. Continue reading…
WEATHER FOX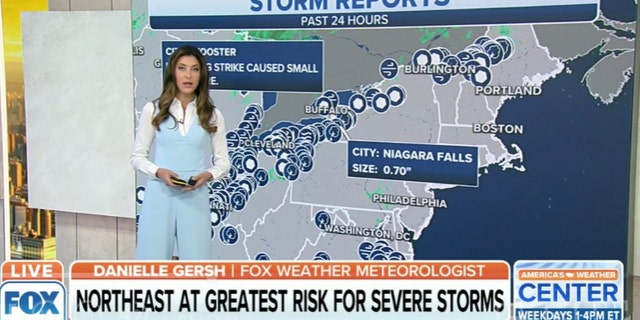 What is it like in your neighborhood? Continue reading…
THE LAST WORD
"That's not the point of immigration, to change the complexion of America. What kind of racist nonsense is that?" Well, that's exactly what it is."
– MARC LEVIN
FOLLOW FOX NEWS ON SOCIAL MEDIA
Facebook
instagram
Youtube
LinkedIn
SUBSCRIBE TO OUR NEWSLETTER
Fox News First
Fox News Reviews
Fox News Lifestyle
Fox News Entertainment (FOX411)
DOWNLOAD OUR APPS
FoxNews
fox business
Weather Fox
Fox Sports
tube
WATCH FOX NEWS ONLINE
Fox News Go
Thank you for making us your first choice in the morning. We'll see you in your inbox first thing Tuesday.